New Zealand has a big new FEC complex in Zone Bowling Botany at Auckland.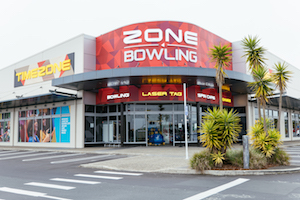 The parent company of the TimeZone chain of FECs across south-east Asia and Australasia, is behind the new location.
Opening just in time for the school holidays, Zone Bowling Botany has a Timezone venue inside it. The FEC officially opened its doors last week following a multi-million-dollar renovation by Timezone's parent company The Entertainment and Education Group (TEEG).
Botany is the second dual-branded Zone Bowling and Timezone venue to open in New Zealand, following the very popular Zone Bowling Garden City in Christchurch last year. Formerly Xtreme Entertainment, Botany has been turned into a contemporary FEC with 12 bowling lanes, bumper cars and 80 arcade games. A new mezzanine level hosts the new 20-vest laser tag arena and there is a new café with a fresh F&B menu.
Belinda Falzon, NZ COO for TEEG, said: "I am sure that by opening Zone Bowling and Tijmezone Botany we will be able to bowl our guests over with fresh experiences. Our "Fun Squad" has worked very hard through the recent Covid-19 restrictions to ensure that we can open on time and provide a safe entertainment hub for Aucklanders."
Sonaal Chopra, CEO of TEEG, said: "Launching at the start of the spring school holidays means that we are able to bring value to our guests. We are in the business of creating smiles and memorable experiences and are encouraged by the popularity of the first dual-branded Zone Bowling venue we opened in Christchurch."
The experience of TEEG in the New Zealand market has shown that the country is not slow to return to its favourite entertainment venues, he said. "There has been queues waiting for the locations to open," said Chopra. "Their confidence in the safety of our NZ venues means that we are still on track to open state-of-the-art entertainment venues in Palmerston North, Christchurch, Napier and Dunedin before the end of the year."
TEEG is one of the world's largest FEC operators, with over 300 venues across Asia-Pacific. It is jointly owned by Quadrant Private Equity and the LAI Group and is headquartered in Singapore.