Momentum in the Saudi Arabian market for entertainment and amusement has been seriously stepped up of late. Dan Snook tries to keep pace.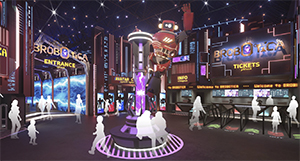 TO those that haven't visited, the Kingdom of Saudi Arabia, to give it its official title, or KSA, as most from the region call it, has a significant amount of mystique. It's a country that many know little about and, as a consequence, there's an awful lot of misunderstanding and, in some cases, apprehension. But then people fear what they don't understand.
The thing is, Saudis are pretty much like everyone else from everywhere else: they love their families and they want to be happy, healthy and successful. They also want to be entertained. Saudis are a prosperous people, too, and they travel, so they've seen what's on offer outside of their country's borders - and they like what they see. They like it to the tune of approximately US$25bn every year - that's the estimated amount of money spent by Saudis overseas every year.