A service partnership has been agreed between Innovative Technology, the money processing specialist suppliers, and Alphonic Technology of Malaysia.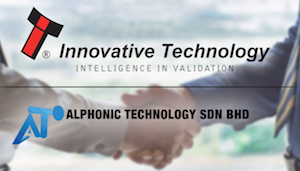 Under the agreement, Alphonic will look after ITL products in Malaysia, working closely with Siwakorn Kanvisetsri, the ITL customer support engineer based in Thailand.
Alphonic is a long-established provider of reliable automated cash handling solutions in Kuala Lumpur, handling service and repair of cash validation machines for the amusement, transportation, gaming and retail industries.
Kravitz Liew, business development manager for South-East Asia at ITL, said: "The region is a key growth area for us and we plan to expand our presence across South-East Asia in collaboration with our partners. We will work with Alphonic to fully support our retail and kiosk customers and they will provide local servicing and repair in Malaysia and beyond."
ITL recently rolled out the CBA9 bill acceptor, designed specifically for South-East Asia, into various regions including Malaysia. The banknote validator is expected to be popular in the region with its high acceptance rate for the Malaysian Ringgit.