The India-based family entertainment chain Happy Planet is expanding with the introduction of two sites before the end of the year and another three in 2020.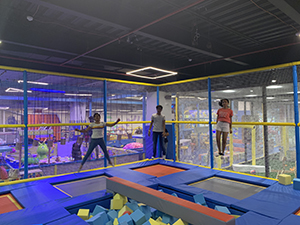 The two new sites will be in Mumbai (Bombay) and Navi Mumbai (New Bombay). This will bring the total number of sites to four, with two already in Mumbai and Pune.
The existing sites offer trampolines, inflatables, climbing walls and softplay. Happy Planet's founder, Nimish Kenia, told InterGame the new centres would expand upon these attractions but wasn't able to elaborate further.
So far, the business has not embraced more modern technology, asserting that kids crave traditional play. "If you give kids something physical where they can jump and climb, that's what engages them more. Kids don't always need gadgets," he said.
The business hasn't done away with the idea of electronic attractions entirely "but no more than 10-15 per cent of our overall offering will be electronic," he said.