Once the Islas Marías Federal Prison, the new Islas Marías Tourist Centre is now a tourist attraction.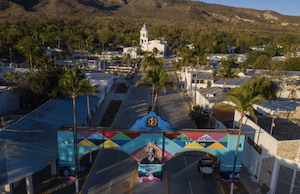 The new attraction, located on the Islas Marías archipelago in the Pacific Ocean, offers visitors a chance to learn about the history of the former penal colony and related political issues, such as through an arch dedicated to Nelson Mandela.
The Star reports that, according to a Mexican government promotional video, the arch is meant to embody the idea that "even behind prison walls, ideals and change can live on for those who want to change history."
The Mandela reference on the site is also significant as the the former prison was host to a number of well-known political prisoners, including left-wing activist and writer José Reveltas.
Hiking and urban or mountain biking will also be available for visitors to observe the impressive landscapes and visitors can enjoy a photographic safari to see the diversity of flora and fauna, for example several bird species.
The attraction includes a variety of F&B opportunities, such as at its restaurant, bar and cafe.