The latest version of a unique product for mini-golf has been launched by Creative Works.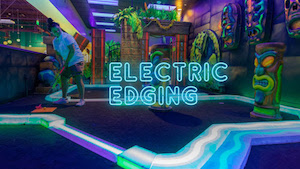 The company's Electric Edging came in some years ago to transform what was originally simply brick edging and was static and uninspiring, and Electric Edging was brought in to change the experience.
LED lighting is embedded into a durable plastic composite material and programmed to constantly rotate colours, adding more of an experience to each hole. In its latest format it can be integrated into a DMX program with endless possibilities for dynamic and interactive play.
The latest installation of Electric Edging was at the Wilderness Resort in Wisconsin, US, where the attractions manager, Trevor Hirst, said: "Bricks are good, Electic Edging is better. It draw the customer in. When they see the lights flashing from the outside they want to go in and play."