A theme park for horror fans, Zombie Apocalypse Park, is to open in Dubai.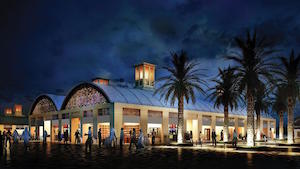 The zombie-themed attraction will offer live shows, a VR cinema, escape games and spooky challenges, powered by glow-in-the-dark technology.
Zombie Apocalypse Park will be in The Night Market in Deira Islands, a new quayside destination that will offer the largest night market in the world when opened. It will stretch nearly two kilometres along the waterfront with over 5,000 shops, restaurants and cafes
The zombie fantasy land will be located alongside the Sharjah Gold and Shooting Club with games that will include paintball, a haunted house, axe throwing, archery, a haunted corn maze and laser tag. There will also be trampolines, target shooting and a special feature: "zombie apocalypse attack and zombie runs."
Said Omar Khoory, managing director of Nakheel Malls: "We want to create an unforgettable experience and have attractions and facilities at our existing and future retail developments. The Zombie Park will be a huge draw at The Night Market, attracting tourists, businesses and schools for team-building events and families and individuals for a new kind of entertainment.
The park will cover 65,000sq.ft and will have its own zombie-themed café, shop and party room.