Entertainment and dining chain Dave & Buster's is to open a location in Des Moines, Iowa in July.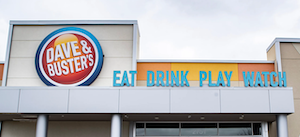 The location will include more than 100 arcade games and a massive 40ft wall with dozens of HDTVs for sports viewing, reports the Des Moines Register.
Games include Wicked Tuna, based on the TV show, a Top Gun: Maverick virtual reality game, and dodgeball as well as classics such as Pop-A-Shot, Pac-Man, and Skee-Ball, all located on Dave & Buster's Million Dollar Midway.
The menu will offer barbecue flatbread, a Philly cheesesteak, and boneless wings, and includes gluten-friendly and vegetarian options.
Dave & Buster's has more than 140 locations, and the Des Moines one will be its first in Iowa.