Major fast food and games chain, Chuck E Cheese is in Chapter 11 bankruptcy.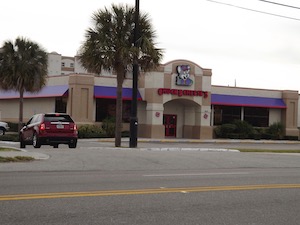 The parent company, CEC Entertainment, filed for bankruptcy and under Chapter 11 in the US. It can continue to operate but plans to permanently close 34 of its stores.
It had closed 11 stores before the arrival of the Covid-19 lockdown, but has now listed 45 leases that it plans to reject. Five of them are in California, four in Florida, four in Massachusetts, three in Ohio and three in Oklahoma.
Chuck E Cheese is a major operator of coin-operated games. Its business model is sale of eat-in pizza for families with a range of amusement devices and overall operates many thousands of pieces of equipment.
It has 15,000 employees and 555 locations in all, plus 186 franchisee locations across 47 states and 16 foreign countries. Some of the US ones are branded under Peter Piper Pizza.
The parent company is owned by Apollo Global Management, a private equity company. It had revenues of $913m and a net loss of $29m in 2019.
Chuck E Cheese was founded in 1977 and with an average of about 75 games in each location, it means that its own stores will contain around 40,000 games.
The company says that it has become a victim of Covid-19, losing more than 90 per cent of its revenue, despite its efforts to work at the deliveries and take-away business.
CFO James Howell said in a court document that "in ordinary times, the company would be financially sound."