Chipmunks Playground and Café, a multinational indoor playground franchise consisting of 49 venues across New Zealand, Australia and Indonesia, has partnered with software provider Roller.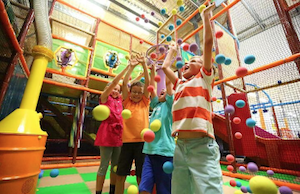 Chipmunks caters to children aged between one and 11. It offers multi-storey playground facilities with interactive equipment, birthday party rooms and onsite cafés.
"Back in 2017, we hired a digital consultant to overview our IT systems and advise how we could implement new technology to streamline our business processes, improve operational efficiency at our stores and use technology to grow our business," said Lance Spence, owner and co-founder of Chipmunks.
"One of the biggest initial challenges we had was trying to find a way to streamline our party bookings," added Daniel Marr, IT and marketing manager. "Things like managing payments, bookings, ticketing and communicating with customers were a hugely laborious undertaking.
"It required a lot of manual phone calls, bank transfers and store visits to ensure deposits were received and we had all the correct information to host a child's party and provide a great experience.
"We undertook a thorough research process to see which software platform was best for us. Based on our research, the best software platform in the market was Roller."