The Cheeky Monkeys chain of softplay centres, of which there are around 10 across the Middle East, are now using Semnox debit card systems.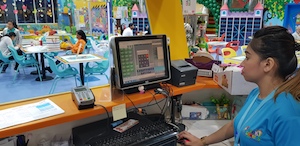 In the current (April) issue of InterGame, Semnox's Middle East head, Tushar Berge, uses the chain as "a classic example of locations upgrading their debit card solutions."
"They provide edutainment play and birthday celebration facilities for children aged from a year up to eight years; an unparalleled arena for daily social and educational interactions focused on children and teachers, and children with parents," he said. "The chain has been expanding rapidly in the Middle East and now has ten sites with plans to move into other parts of the world very shortly.
"They adopted our system taking off their existing legacy system knowing that the uniqueness of their operations fitted better with the modular system that we can offer and support, making their expansion easier."
Shazad Ali Abdullah, managing director at Cheeky Monkeys,commented: "We have a unique concept where entertainment is combined with education for the kids so that the learning is fun and parents do appreciate these concepts. We have seen a strong acceptance of our offering. To continue with our growth strategy and continued innovation, we needed a partner with a solution for current needs but also one ready to work with us to expand on the solution footprint as we grow."
The full interview can be found in the current issue of InterGame.