The Canyon Sainte-Anne nature park in Quebec, Montreal, has signed a three-year agreement with Connect&GO, accessing the company's all-in-one management platform, Konnect.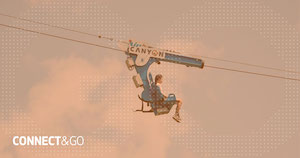 The Canyon is a place geared to afford visitors an "inspiring and meaningful ecotourism experience", with a focus on ensuring sustainability into the future.
Active entertainment options available at the canyon include hiking trails, suspension bridges and its unique AirCanyon zipline, taking guests on a journey through the forest, canyon and waterfall from the comfort of a two-person motorised chair.
A release for the new partnership with RFID and integrated attractions management technology specialist Connect&GO states that Konnect will be used by the Canyon team to "drive sales and streamline processes through one central system for ecommerce, point-of-sale, access control and reporting. With Konnect's easy-to-use interface, the team can quickly customise their ecommerce and point-of-sale configuration and access all their data in real-time."
"The Konnect platform is simple, user-friendly and very comprehensive," said Josée Fillion, director of Canyon Sainte-Anne. "It will help us solve many problems encountered in the past. Plus, the team has been amazing to work with and extremely helpful with training and support."
Konnect is a cloud-based, all-in-one management platform which works to integrate ecommerce, point-of-sale, F&B, RFID access control and cashless payments into one system, affording real-time data. Aiming to provide a solution to traditional ticketing platform difficulties such as siloed systems, Konnect "unifies" data and ultimately helps attractions drive revenue and prioritise visitor experience with a streamlined service.
"We are very happy to partner with Canyon Sainte-Anne to help them optimize the management of ecommerce and onsite sales processes," said Dominic Gagnon, CEO of Connect&GO. "We're passionate about helping our clients leverage the benefits of a connected system and real-time data."