VR specialist VAR LIVE eyes expansion.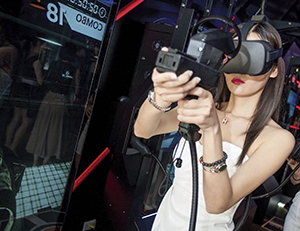 THE uptake in VR technology has seen a whirlwind of exciting innovations hit the amusements industry in recent years. Some of it, admittedly, provided more style than substance, but the best inventions, as always, have risen to the top and are now part of the industry furniture.
One company that has seen several years of success in its native Asia is VAR LIVE, a VR developer and manufacturer based in Hong Kong. The company was co-founded in 2017 by four veterans of the industry: CEO Steve Ngu, ex co-founder and ex international CEO of the Dartslive electronic soft-tip darts machine; CFO Eric Yeung, board member of Hong Kong Cyberport (aka the Silicon Valley of Hong Kong), chairman of Esports Association HK; COO Jason Wang, head of game design and artwork; and CTO Andy Yang, who specialises in R&D.
Read the full article in the September issue of InterGame
To receive every print and digital issue of InterGame, subscribe here