BANDAI NAMCO Amusement Europe will be presenting a whole host of new products at this year's IAAPA Expo in Orlando, Florida on booths 900 and 1000.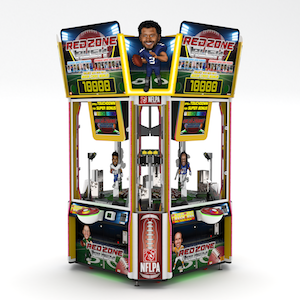 Red Zone Rush is an new four-player game that lets gamers take control of a licensed NFL player, to 'rush' dozens of miniature footballs into the endzone. Any ball in the endzone is a win, but with skill and timing, players can push specially-lettered balls into the Red Zone to spell 'touchdown' for a super bonus. Also, if a player scores with any ball labelled 'card', they immediately win an NFL player card that can be collected for ticket bonuses or traded in for tickets. All player cards are officially licensed from NFLPA.
Hot Wheels from Adrenaline Amusements gives players six iconic cars to race around three tracks. The 60-second races offer more tickets the more drivers compete with the winner taking the biggest haul. Jurassic World Fallen Kingdom from Andamiro asks players to escape the jaws of dinosaurs to win tickets if they survive. The licensed redemption game allows players to take control of a 4x4 on a sliding mechanism, using skill to land it on the 'big win' target.
BNAE will also be revealing new titles from Raw Thrills and Play Mechanix at the show. Following on from previous big releases like the SuperBikes Series and Jurassic Park, the Big Buck Hunter series and Halo Fireteam Raven this year's new games are a closely guarded secret, which will be announced on the show floor.
The company's prize division will be preparing for the 40th anniversary of Pac-Man with retail-quality shiny plush as well as a whole range of new Pac-Man gifts. Its Scooby-Doo range will be on show in the run-up to the 2020 animated movie release alongside the popular Minecraft line of plush in-game characters.
Continuing the theme of big licenses, BNAE's DC plush range includes the heroes and villains of some of the most popular comics, movies, and TV shows. High hopes are on the Harley Quinn plush in anticipation of the upcoming movie Birds of Prey, set to release in February 2020.
Visitors to BNAE's booths can also expect new developments from its Prize and Management Solutions Division, as the company is the exclusive distributor of Embed's range of cashless solutions throughout the UK and Ireland and also Deltronic Labs products, which include leading ticket dispensers as well as the ticket eaters redemption solution.