There will not be a Chariots of the Gods theme park within the new Blackpool Central project in England after all.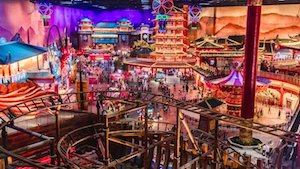 The plans submitted to the local authority for approval last week, by developers Nikal and Media Invest Entertainment, showed that the name of the famous book will not be used in the project.
The joint venture has dropped the name after market research showed the brand did not resonate among a younger audience, reports media channel North West Place.
Around 126,000sq.ft of a site right on the English resort's sea-front, is being used for the development, which will now simply be known as Blackpool Central Indoor Entertainment Park.
Media Invest owns the rights to the book name Chariots of the Gods, a 1968 pseudoscience novel that investigates links between aliens and ancient civilisations. Some ideas are being taken from the book, however, for the plans include a flying theatre.
Work will begin soon and it is scheduled that the entire location will open for business half-way through 2029.