Bay Tek Entertainment has released Skee-Ball Carnival, an improved version of the classic alley game.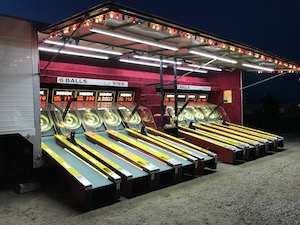 It made its debut at Gibtown, the largest carnival trade show in the US, organised by the International Independent Showmen's Foundation.
"We got a lot of great interest in the game at the show. This is a brand that's not going anywhere, in fact it's getting stronger, despite it being 110 years old," said Jeff Hudson, account manager at Bay Tek.
Since the acquisition in 2016, Bay Tek has been reviving the Skee-Ball brand while purposefully maintaining its original integrity. From a product development standpoint, Bay Tek has made significant improvements to both the quality and service support of all Skee-Ball games. The carnival alley is no exception.
The rail lighting has been enhanced, perfect for night-time operation; the ball-chase LED technology follows the ball up the ramp when thrown, an effect that didn't exist on the original lanes and it's now constructed out of durable marine-grade plywood to hold up to the harsh elements faced by carnival operators.
"We made significant changes to the Skee-Ball lane with the carnival market in mind," said Hudson. "We know durability, dependability and striking aesthetics are crucial to this group, and we made enhancements to address all of those area. There are a lot of alleys out in the carnival market today that are 30-plus years old. Our customers deserve a quality option to replace them with. And the new alley has been designed to be retrofitted into most existing Skee-Ball trailers, so upgrading shouldn't be a problem."
Skee-Ball has been ever-present in the amusement industry and US culture since 1908 and is one of the oldest games in the market today.