The FEC industry in Argentina is beginning to get back into operation, but with restrictions, reports Magnetic Cash, the cashless system supplier based in the country.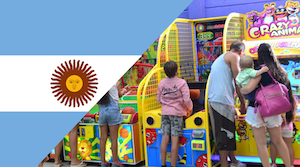 After nine months of strict quarantine for the industry the business is beginning to reactivate, but the special clauses include 50 per cent capacity, separation of games by at least 1.5m, face masks and alcohol gel washing for hands.
The company has shared some comments from operators in Argentina on the effects of the lockdown and of their experience with the cashless system.
Ulises Gaitan, co-owner of Bubba Park, said: "Little by little we began the reopening following the protocol established by the Argentine Association of Parks and Attractions (AAPA). I am very satisfied with our Magnetic Cash System and the response provided by the company. It helps me a lot with the operation."
Antonio Font, owner of Pibelandia, said: "We are in a process of gradually reopening our operation, hand in hand with protocols that will limit our activity at least for most of 2021. The focus is on recovery, and then we will continue to deploy our strategy of continuous growth.
"Within this framework, Magnetic Cash is a strategic ally for our company, providing technological solutions that allow greater efficiency and control of operations. Regardless of this, I highlight the quality of the human group that composes it and the commitment to its clients to always give an immediate response to problems that may appear."
Sebastian Reynoso, director of Le Park Entretenimientos, commented: "We were completely closed for seven months, a period that was very long for us as a company, but it also became very long for all the families with children who visited us regularly. In this new scenario, I believe that safe family fun becomes essential, to rebuild the bonds of those families, relieve the stress of confinement and uncertainty, and begin to generate new memorable post-quarantine moments".
He also expressed his view on the long-term future of the entertainment industry. "My feeling is that the activity is going to recover gradually but constantly. In Latin America the winter is over and so are the worst peaks of the disease. I hope that before the next winter we will have a vaccine, at least for health personnel and risk groups. That would be a great relief and something that would further support the recovery," he said.