The return of the grandfather of games, Pong, has been in the works for a while now.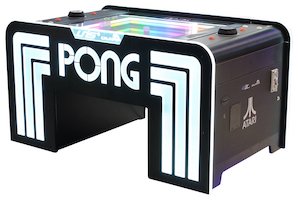 Last year's IAAPA show treated us to prototypes of the updated re-release with the news that UNIS had entered into a deal with developers Calinfer to manufacture and distribute the machine. Then, the early version was aimed at consumer use with an arcade ready version promised, but according to the Atari PONG Table Project Twitter account, the wait is over.
Features on the new unit include one and two player game modes, coin mech (and, we would imagine card reader compatibility), ticket dispensing features and elevated height structure for standing play.
The original consumer unit boasts a Bluetooth speaker to enable a customised soundtrack, USB ports to charge devices and reversible control panels which turn the arcade machine into a retro coffee table, although these are unlikely to make it into onto the commercial version.
The timing is just right for an appearance at this years' IAAPA of course, and although there has been no official announcement, we would expect the machine to be available before Christmas.