Another new destination is opening for The Entertainment and Education Group (TEEG) in Australia.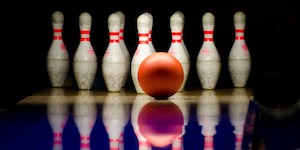 The Ryde suburb of Sydney now has a new Timezone and Zone Bowling venue, the first purpose-built combination of the two brands since the Timezone and Zone Bowling Garden City in Queensland in 2019.
The Timezone and Zone Bowling Top Ryde City covers 3,000sq.m of space, with cutting edge lighting, high-quality fittings and comfortable furnishings, said the company.
Kane Fong, general manager of Timezone and Zone Bowling Australia, said: "The refresh and repositioning of the brands in 2019 showed us how strong our guests' appetites are for fresh out-of-home entertainment options."
Opening November 5, there will be 140 arcade games, 12 lanes of bowling, a laser tag arena for up to 24 players and a seven-car Spin Zone bumper car arena on offer.
There are also three multi-purpose party rooms with a 90-person capacity and a Winner's Vault prize redemption counter.