Hologate's long-awaited Angry Birds VR title is set to be debuted at Gamescom 2019 in Cologne, Germany, later this month.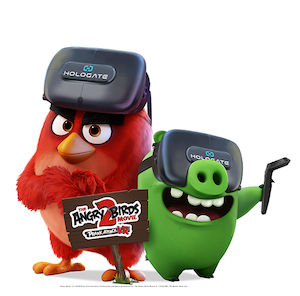 The Angry Birds Movie 2 Prank Attack VR is the newest addition to the German VR pioneer's expanding third party line-up, a family-friendly pick-up-and-play game featuring the popular characters from the Angry Birds series.
The location-based VR platform, along with Sony Pictures Virtual Reality and Rovio Entertainment, have collaborated to create the new game experience inspired by the upcoming animated movie sequel. The game acts as a precursor to the events in the movie, with players taking part in an ever-escalating prank war between the flightless birds and scheming bad piggies.
Up to four people can immerse themselves in the first-person VR world of the game where players armed with a giant slingshot stand between the enemies, the bad piggies and Bird Island.
The film, from Sony Pictures Animation and Rovio Entertainment, began its global rollout in the UK on August 2. The film opens in North American theatres on August 13 and on September 19 in Germany.
Gamescom, the largest video game and digital culture trade show in the world, is set to run from August 20–24 at Koelnmesse, Cologne. Hologate and the Angry Birds can be found in Hall 10.1, booth E-070