Nolan Kertis is an autistic 17-year-old American boy who loves playing the arcade game Deal or No Deal.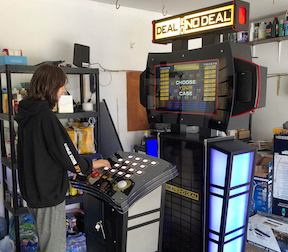 His love affair with the game began when he was four years old and first played it at a local Chuck E Cheese. From then on, every time his family passed an arcade they would stop in so that he could play the game.
From there, Nolan discovered the hit show and watched it routinely. He went on to play the Deal or No Deal board games and Wii game. As he got older, Nolan kept being drawn back to the arcade. He would use Google Earth to scour the country for arcades where he could play the game. Nolan and his family made treks to Detroit, Virginia Beach and more to do so.
When the pandemic and lockdowns hit the country, Nolan could no longer play his favourite game. Nolan's mother Amy sprang into action to see how she could help out her son. Jumping on Google, she searched for the game and emailed any company she could find online that might have the game. Marty Smith from Sega saw the email and decided that he had to help. Since the game was no longer in production, he would have to find a used game.
Connecting with his friends in the industry, Marty found the help that he needed. Mike Springman from Betson located a used Deal or No Deal game. Dan Coppola at ICE Games, the manufacturer of the game, supplied free parts at no charge to help. The Betson service team then reconditioned the unit to look like new and delivered the game to Nolan's house.