A likely six per cent rise in the compound annual growth rate of the attractions industry is set to see revenues rise to $74.7bn according to a recent study.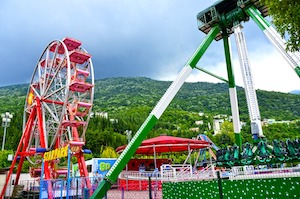 The report, by US full-service market research and business-consulting firm Allied Market Research, says that the sector, which includes not only theme and amusement parks but also water parks, children's play parks and adventure parks, was worth $47.2bn as of 2018.
"A consumer shift toward experiencing thrill and entertainment," along with a rise in innovation in the tourism industry have boosted the growth of the global market, the report claims. The expanding inclusion of new ideas and an increase in edutainment are expected to create lucrative opportunities in the near future, the report predicts.
By type, the study shows the adventure park segment held the largest share in 2018, contributing to more than half of the market, owing to an increase in edutainment, as these parks use advanced concepts, technologies and outdoor activities such as trekking and rock climbing. The children's play park segment is projected to register the fastest CAGR of 8.5 per cent during the forecast period.
The availability of price discounts, vouchers and ease of payments will play a predicted large part in the growth of the online sales channel for such leisure activities, with a CAGR of 7.7 per cent until 2026. However, the direct purchasing segment held the largest share in 2018, accounting for more than 75 per cent of the market.
The market across North America held the largest share in 2018, contributing nearly 60 per cent of the market, owing to rising technological advancements including virtual and augmented reality. However, the market across the Asia-Pacific region is anticipated to manifest the fastest CAGR of 9.6 per cent, owing to rising investment in evolving technologies for providing an improved consumer experience.