A new summer attraction has opened on the slopes of Jahorina Mountain in Sarajevo, the capital city of Bosnia and Herzegovina.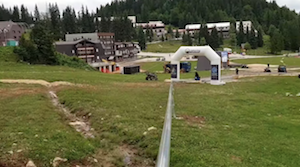 The alpine coaster runs to a length of 2,500m, making it one of the 10 longest in Europe and has been a hit with locals and tourists. Management at the Jahorina Olympic Centre which operates the attraction has reported queues of hundreds of metres to experience the ride.
Revenue at the centre has reportedly jumped by 120 per cent since the same period last year and should go some way to recouping the estimated €1.8m investment
The Jahorina Mountain Olympic complex, which once hosted the 1984 Winter Olympics, also has plans to construct a large scale "adrenaline park" by next year.
Image: Klix.ba/YouTube