The Allegan Event Center, a 13,000sq.ft indoor adventure centre owned and operated by Ropes Courses founders Jim and Michelle Liggett, has officially opened in the US state of Michigan.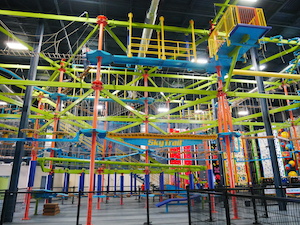 The new facility, an extension to Allegan Event's double zipline, can entertain up to 300 people at one time.
The course is anchored by a two-storey Sky Trail Discovery ropes course that rises 35ft in the air, and also offers two Sky Rail ziplines, as well as 60 different elements including a rolling log, a swaying ladder, and a narrow balancing beam.
Along with the 80ft straight rail on the course, a 100ft curved rail adds an additional twist, and the course also includes a Quickjump free-fall exit from the second level.
Additional features include 17 30ft-high Clip 'n Climb climbing walls, a Sky Tykes ropes course for young children, and the Clip 'n Climb-designed Vertical Drop Slide.
"The opening of the new Allegan Event Center is the culmination of several years of envisioning, planning, and construction by our entire staff to create an innovative and active destination where families, couples, teens, and kids can play together in a dynamic setting in any kind of weather," said Jim Liggett.
Michelle Liggett added :"As technology and devices seem to take over more and more of our time each day, we feel like it is vitally important to create attractions that encourage people to put down their smartphones and tablets and invest in play time that is both engaging and challenging."