The 2018 Amusement Expo International drew to a close recently with the news that it attracted the largest number of visitors since it launched in 2010.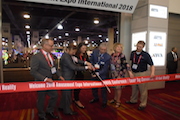 The Las Vegas show, co-sponsored by AMOA and AAMA featured 169 exhibitors compared with 157 in 2017, 42 of which were new this year, up from 37 a year ago.
Numbers of buyers increased from 1,105 last year to 1,677 this. The total number of registered visitors grew to 3,104 from last year's 2,484.
Other changes for the 2018 show saw a dedicated pavilion for VR and an expanded education programme.
AAMA president, Holly Hampton commented: "The education committee knocked it out of the park. We went from 10 education sessions last year to 25 this year. I'm hoping that with so much great content we will get attendees to bring more people next year!
"Adding the VR track was an 11th hour decision and it was well worth jumping through hoops to get it put together thanks to Bob Cooney (Zero Latency). The sessions were standing room only. It was also nice having VR representation on the exhibit floor."