A mini-golf course in the UK is set to reopen after a £40k makeover.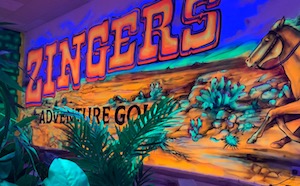 Zingers Adventure Golf, which is based in Portsmouth, has been closed since June but will finally reopen its doors with an all-new look on August 14.
Refurbishment plans had to be shelved in January due to Covid-19 but have now finally been completed, with owner Teague Fullick telling Portsmouth's The News that the course now has a wow-factor.
The changes include the commissioning of a mural by London street artist Dr Zadok and the addition of neon, life-sized props.
The course is nine holes long and set over two floors with extensive use of UV paint and lighting.