Aristocrat's latest slot game inspired by the sci-fi-fantasy Westworld will soon be taking casino players on a journey across North America.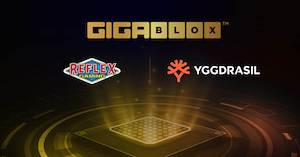 Westworld, from Warner Bros Television, is set at the intersection of the near future and the reimagined past. The new game takes players on a thrilling journey through Delos Lab and Westworld, filled with unexpected twists and turns, fan-favourite characters and beautiful landscapes, as well as high-definition footage of the most memorable scenes, episodic photography and the show's distinctive music.
The game offers a unique gaming experience in which fans can play in two different worlds. The top symbol set represents the Delos corporate world and the bottom symbol set depicts the Westworld park theme.
Players can make a 50c wager to play the two separate games. A wager of 80c or more merges the two game sets for a full game immersion, where base games become even more exciting with increased ways to win and additional chances of triggering a feature. Westworld also features a unique math model that is completely new to the gaming industry.
The game debuts on Aristocrat's new flame55 cabinet. Every aspect of flame55 is designed to provide a superior gaming experience, including a double-curved, 55ins single-screen, 4K monitor.