Day two of the big Australasian casino equipment trade show got under way this morning, with statistics emerging from day one that indicate a continued growth in the event.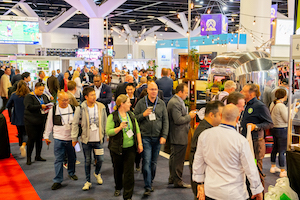 The Australasian Gaming Expo, being held at the International Convention Centre in Sydney's Darling Harbour, finishes its three-day run tomorrow after a successful 30th anniversary event.
On the first day, reports the Gaming Technologies Association, the organiser, over 3,100 key industry executives gathered at the show. Registrations were up three per cent over last year and so was the first day visitor attendance up by the same margin.
The show is a shop window for the world's best and latest gaming and hospitality equipment and has over 230 exhibitors and a strong seminar programme with some of the sessions standing-room only.
The daily draw for an all-expenses-paid trip for two to Las Vegas for G2E was won on the first day by Robyn Withers from Wauchope RSL club.
A cocktail party was held at the conclusion of the first day to celebrate the 30 years anniversary and there were presentations to exhibitors that had taken part in all of the events since it began in 1989.
To find out more about the show, click here to read the digital version of the AGE Today.