Russian manufacturer and operator Alsart Group is turning its attention to the Kazakhstan gaming market now that new laws have changed the face of the industry there.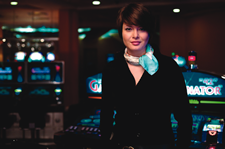 In January 2007, the President of Kazakhstan, Nursultan Nazarbayev, passed a new law that in effect restricted gambling in the country to two zones - Kapchagai and Schuchinsk.
In 2007 there were 132 casinos, over 2,000 slot rooms, 53 betting shops and one totalisator, but since the change it has been impossible to provide statistics of this kind. "After the law came into force, operators were given only three months to move out from the cities to the gaming zones," said Alsart chairman Lyubov Loginova.
"A number of gaming venues were closed, some of them were turned into discos, cafés and restaurants and a lot of gaming venues went underground.
"As a result, official information on gambling venues disappeared. According to official statistcs, in November 2008 10 licences had been issued for betting shops, four for totalisators and one for a casino."
The country's first legal casino under the new law, the Flamingo, opened on October 1, 2008. The second one, Moulin Rouge, was scheduled to open the city of Kapchagai on November 11, but it does not operate at the moment and there is no additional information about it.
"Some operators are taking advantage of legislative loopholes," said Loginova. "The new law does not explicitly prohibit games that do not have cash prizes. Some operators have not moved their slot machines to the gaming zones, but instead offer prizes in the form of consumer goods, mobile phone pay cards and the like."
However, these loopholes are now under revision. In September 2008 the draft of another new law was presented to Parliament. This would definitely confine gaming operators to the two gaming zones.
After the law change came into force, many analysts predicted the growth of the instant lottery business. Indeed, at first some growth could be noticed, but later the interest subsided. "Instant lotteries are popular with people on low incomes, while casinos appeal to those with higher incomes," said Loginova.
Online casinos are expressly prohibited by the legislation, but despite this ban there are still some illegal Kazakh online casinos. Bingo is regulated in the same way as lotteries but is not a considerable part of gaming in Kazakhstan.
The only totalisator in the country is in the city of Almaty. Races take place only once a month or once every two months and gambling activity tends to be seasonal, with May as the peak month. The 53 Kazakh betting shops are popular, the main operators being Gol+Pass and Olymp. There are several online poker websites operating, but demand is low.
"As far as the new zones are concerned, there are currently two casinos built in Kapchagai and another two being built there," said Loginova. "The development in Schuchinsk will begin in March."
According to Kazakhstan's Vice Minister for Tourism and Sports, Kairbek Uskenbayev, the main part of the infrastructure work in Schuchinsk is done. "All the necessary basics like power supply, heating and water supply and sewerage are planned into the budget," he said.
He added that Kapchagai has been visited by representatives of US casino owner Eighth Wonder International. "They visited Kazakhstan twice and are now due to present a business plan."
A protocol of intent to develop an international tourism centre on the shore of the Kapchagai reservoir in the Almatinsk region has been signed by the Kazakh government and Marc Adventon, chairman of Eighth Wonder.
The centre will consist of golf courses, a conference hall, spa, restaurants, entertainment centres, shopping malls and sports venues. It will be realised in three stages. The first phase will take a year, the second three years and the third 10 years. More than US$3bn will be invested in stage one.
Despite all these plans, some existing casino operators have looked elsewhere. "After the law came into force many casinos didn't stop operating, just went underground operating in the black market for their regular clients," said Loginova.
"Many owners of Kazakh casinos decided to move their venues not to Kapchagai but to Bishkek, the capital of nearby Kyrgyzstan.
"Thus the owners of Kyrgyz casinos, flooded with Kazakh gamblers, profited greatly from this situation. Every week Kazakhstan loses hundreds of thousands of dollars that Kazakh gamblers spend in Bishkek."
She sees Kazakhstan as a market with huge potential. "To prove that our intentions are serious in this market we have opened an office in Kazakhstan.
"We supply equipment for bingo halls and betting shops and sell and lease slot machines. We are also considering investment in the gaming zones and are planning to open a chain of bingo halls and betting shops attached to sports bars."