Following announcements from the UK government over the gambling review white paper, key players within the industry have given their feedback.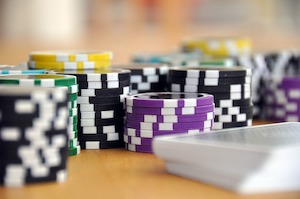 Proposals announced by the Department for Culture, Media and Sport include limits on online slots and a statutory levy on operators to support gambling addiction treatment. A series of land-based proposals are also set to be implemented.
Rank Group reacts
Rank Group, which operates Grosvenor Casino properties and Mecca Bingo halls in the UK, has welcomed the white paper's proposals for the land-based sector.
"The government's commitment to a sliding scale for gaming machine numbers, based on size of venue, ought to ensure that the vast majority of our 50 casinos will benefit from a greater variety of gaming machines which will better meet the needs of our customers," a statement read.
The group also said it will work with government on its efforts to modernise the land-based sector, with Rank aiming to offer a wider range of table gaming products on electronic terminals in its casinos and extend betting opportunities on the main stage game of bingo.
John O'Reilly, chief executive of Rank Group, said: "Whilst our UK digital business will be impacted by a tightening of regulation, our land-based operations will benefit from the proposed regulatory changes and, in net terms, the group will benefit.
"With public policy now set, attention shifts to the timeline for implementing these policy changes. Swift implementation of these much needed reforms is vital for the land-based sector as we look to meet the needs of today's consumers whilst continuing to uphold our commitment to safer gambling."
Flutter braces for impact
Meanwhile, Flutter said its "current best view" is that the proposals will impact its revenues by between £50m and £100m.
On top of "pre-emptive changes" that have already seen it remove £150m in annual revenue from its UK revenue, Flutter said the "total cumulative revenue impact" will be between £200m and £250m of its annual UK earnings, with the changes expected to begin impacting its operations at "some point in 2024."
Flutter chief executive Peter Jackson said: "We believe proactive change will lead to a better future for our industry and have introduced industry-leading safer gambling controls via our Play Well strategy over the last few years, including setting mandatory deposit limits for customers under 25, reducing online slots staking limits and making material investments in our safer gambling operational capabilities."
He said Flutter is also encouraging the Gambling Commission to "look at what more it can do" over the black market.
"It is important to get new regulation right from the start, as it will ultimately provide the certainty our industry needs to continue investing in jobs and in further growing the UK's lead in digital innovation in our rapidly evolving market," he concluded.
Kindred, Entain react
Entain CEO Jette Nygaard-Andersen labelled the white paper an "important step forward" that will create a "level playing field for all operators."
Nygaard-Andersen added that Entain welcomes the "clarity" the review will bring to the industry and customers.
"As a global and diversified business that operates in over 40 territories around the world, all of which are regulated or regulating, we are firmly in favour of regulation that preserves the market for the vast majority of customers who enjoy recreational betting and gaming, whilst also ensuring appropriate protection to all players," she concluded.
Neil Banbury, general manager for UK at Kindred, said "strong controls" for younger customers "make sense."
He added: "However, serious consideration should be given to how data and AI can effectively offer all types of customers a safer gambling experience that works for them, rather than blanket approaches. A blanket approach poses several risks - set it too high and players who cannot afford it are put at risk. Set it too low and you encourage players who can and want to stake more to go to easily accessible unlicenced platforms.
"A risk-based dynamic approach, like the one we offer on our platforms, avoids such unintended consequences – and we welcome the government's support for such technology to be rolled out across the industry."
Speaking at Kindred's investor call ahead of the announcement, CEO Henrik Tjärnström said the fact that customers could "spread their spending across more operators" due to the new regulations could provide a "potentially good opportnuity" for gaining market share, including from "smaller operators" who will "struggle to comply with the complex regulatory situation."
Street market
Sources within the UK street market, representing the amusement arcades, adult gaming centres and machines in pubs, suggest that the white paper was, if anything, positive towards the sector.
One unnamed source pointed out that while the ability for over-25s to play online with higher stakes was at first sight a severe competition for AGCs, it could equally be argued that it was a "double-edged sword," providing good ammunition for a "level playing field" for AGCs still stuck on £2 maximum stakes.
"Even with inflation on its own, our B3 machines - a higher payout machine that AGCs can only offer in limited numbers - would justify a stakes increase to £2.50," the source said.
The suggestions of talks on cashless play through the use of debit cards was a positive step and the industry was not concerned about the increased vigilance to prevent under-aged gambling in arcades and age verification systems as they fitted well with the industry's already-established code of conduct.
The trade association representing the non-casino street gaming industry, BACTA, said that some of its suggestions had been taken up by the government in its white paper, including the switch from the 80/20 split between low-stake and medium-stake machines to a 50/50 basis.
'Effective policy reform'
Michael Dugher, CEO of the Betting and Gaming Council, said the white paper reforms "should protect jobs" and sustain the industry's "vital contribution," while also "building on our own work to drive world-leading standards in safer gambling."
He added: "the measures announced today should protect jobs and sustain that vital contribution, while also building on our own work to drive world-leading standards in safer gambling."
Dugher had also said ahead of the announcement that the BGC is "ready to deliver" the mandatory levy and consult on stake limits for online slots.
However, The Social Market Foundation, which campaigned for the statutory levy and has been campaigning for affordability checks, has called for more clarity.
Dr James Noyes, SMF senior fellow, said: "It is true that the final decisions and details for many of the proposals in the White Paper risk being delayed further by being put out to consultation.
"We also note the lack of meaningful reform of advertising and clarity about an ombudsman. Until these consultations are conducted and conclude in a manner that is free of industry influence, campaigners for reform have reason to remain cautious.
"However, we recognise that this white paper is an important step on the path to reducing harm, tightening regulation and creating greater fairness in the market."
Ombudsman praised
UK gambling support service GamCare said it welcomed the affordability checks and the statutory levy, while also praising the introduction of an ombudsman.
Anna Hemmings, its chief executive, said: "We welcome the introduction of an ombudsman, which will ensure a fair, transparent and quick resolution of complaints; and will advocate for our service users to be at the heart of the design of the new system.
"We will now take time to carefully review all the proposals and respond to the detail of the white paper and any related consultations. We receive over 40,000 calls to our National Gambling Helpline every year and we will be looking for those people to share their thoughts on the proposals."
Gambling with Lives called on the government to go further with its proposals.
Will Prochaska, strategy director at the charity, said: "We welcome the government finally acting, but nothing has changed yet. We desperately need the Gambling Commission to enact these reforms and not drag their feet.
"Government must now go much further, remove the influence of the gambling industry, and give a greater role to the Department of Health in regulation."
Charles Ritchie MBE, co-founder of the charity, added: "We now need to push further for an end to all gambling advertising, we need preventative affordability checks when losses reach £100 a month, and we need to do more to make the most dangerous products safer, further reducing stake sizes and play speeds.
"Only then will we be able to see a real reduction in the deaths caused by gambling."
Sports betting reaction
Elsewhere, the white paper revealed that a review of the horserace betting levy - which the DCMS was required to undertake by 2024 - is now being undertaken.
Joe Saumarez Smith, chair of the British Horseracing Authority and member of the Gambling Strategy Group, said the news was "an important moment for the industry on a significant issue for its future prosperity."
He said it is "crucial" that any regulatory framework "recognises that millions of people safely enjoy betting on horseracing, while taking action where needed to protect people experiencing gambling-related harm."
Saumarez Smith said he subsequently welcomed the UK government reflecting on its "detailed representations" including on the "importance of proportionate legislation" and the "significant potential for unintended consequences."
In the upcoming consultation period, the British Horseracing Authority will "continue to make our case that sweeping blanket checks on affordability are not appropriate, with any measures needing to being proportionate and targeted at individuals and their specific circumstances," Saumarez Smith concluded.
Better Collective, meanwhile, said it expects the white paper will have "zero to limited financial impact" on its operations because UK sportsbooks have "strengthened and implemented" affordability checks since the review was first announced.
It has since seen a "normalised sports win margin" which it expects will not change after the proposed measures.
Lebby Eyres, CEO at the Health Lottery, said it fully supports the government's goal of preventing children from accessing gambling products.
She added: "As is stated in today's publication, while the age limit to play the National Lottery was recently increased from 16 to 18, society lotteries were not required to follow suit.
"However, we voluntarily raised the age of play for all The Health Lottery products sold in retail outlets to 18 in September last year as we take responsible play and the protection of children seriously. We had already raised the age to access our online offering to 18 in August 2020."
The legal perspective
Nick Arron, lead partner in the betting and gaming team at law firm Poppleston Allen, offered his insight into the government's plans for affordability checks.
"It's worth noting that the white paper refers to the Gambling Commission consulting on two forms of financial risk check. Firstly, background checks at moderate levels of spend, to check for financial vulnerability indicators such as County Court Judgments.
"They propose these should take place at £125 net loss within a month or £500 within a year. The paper suggests these levels are only expected to have an impact on 20 per cent of players, so not every customer will have to undergo an affordability assessment.
"Second, at higher levels of spend which may indicate harmful binge gambling or sustained unaffordable losses - they propose thresholds of £1,000 net loss within 24 hours or £2,000 within 90 days - there should be a more detailed consideration of a customer's financial position.
"They also propose that the triggers for enhanced checks should be halved for those aged 18 to 24 given the evidence of increased risk. The number subjected to more detailed checks is likely to be fewer than 5 per cent."
White label effect?
Jamie Walters, CEO at QiH Group, labelled the government's decision not to make changes to white label arrangements "very welcome to those of us operating fully compliant white labels."
He added: "We do not operate under white label agreements because it allows us to circumvent licensing regulations. We do so in order to leverage the first-class compliance capabilities of our white label providers and their competence in this regard is a primary reason we work with them.
"Regardless of who holds the actual Gambling Commission licence, any regulatory breaches by white label operators can be enforced by the regulator. In this regard, it's worth noting that few of the large financial penalties handed out in recent years have been related to white labels and the decision not to make changes to white label arrangements is perhaps a recognition of this."