Pragmatic Play puts a new spin on the popular board game with its Snakes & Ladders Live offering.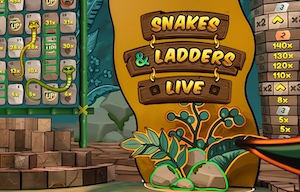 The live casino title is a gameshow that combines classic and modern game elements to deliver fast-paced gameplay.
The main game is played with four dice that feature either Diamond, Star, Snake Totem or Snakes & Ladders symbols.
Rolling two or more Diamonds or Stars awards multipliers, with either four straight Stars or three Stars and a Diamond delivering the maximum 20x payout multiplier.
The Snakes & Ladders bonus game, meanwhile, is triggered by rolling at least two Snake Totem symbols, with a fifth die determining the number of rolls in the round. The bonus game is played on a familiar 8x8 tile board.
Irina Cornides, chief operating officer at Pragmatic Play, said Snakes & Ladders Live "captures the fun and familiarity of the original board game" in an "immersive" live casino gameshow, noting the title's "nostalgic theme" and "modern, engaging gameplay."