Slots maker Wazdan has announced a new partnership with TGP Asia that takes it into the Asian markets, ramping up its presence across the Far East.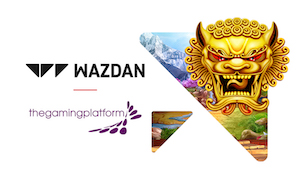 The Gaming Platform (TGP) concept has evolved over years of running B2C gaming websites, with the recognition that the right partnerships are the key to success. The focus is on developing quality partnerships with operators, suppliers and content providers in order to deliver a flexible and dynamic online gaming platform for business partners. TGP Asia is the specialist Asia unit of TGP.
Wazdan has been racking up the awards for their innovative slots, winning Hot Product Award at G2E Asia with 9 Lions, which made a stir and got the company noticed in the Far East. In November at SiGMA, the company launched two new features: Ultra Lite Mode and Ultra Fast Mode, to generate added excitement and fun for players.
Charles Hwang, CEO of TGP Asia, said: "Wazdan has a buzz about them and the prospect of offering their complete portfolio of the latest HTML5 games to our partners was irresistible. Wazdan has a growing reputation for developing high-quality technology and wickedly immersive games, and that's what players on the move want today. We believe this will give Wazdan the traction they need in Asia."
Head of sales at Wazdan, Andrzej Hyla, said: "Asia makes up almost 60 per cent of the world's population and we see that our games fit well to that marketplace. The deal with TGP Asia ensures we have a significant presence within the region whilst catering to the growing demands of the online gambling communities in Asia."