Italian Serie A football club Genoa CFC has taken part in a Sportradar betting integrity and anti-match-fixing workshop.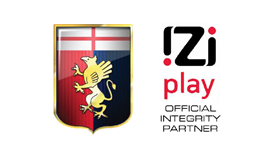 The programme was supported by Italian betting company iziplay, the main sponsor of Genoa CFC, and organised to educate first team players, coaching staff and youth players about the dangers of match fixing.
The workshop, in which participants were made aware of the rules and regulations regarding betting and match fixing - and of the penalties for breaching those rules - was followed by a panel session discussion and press conference.
Alessandro Zarbano, CEO of Genoa CFC, said: "With this project, we have implemented a preventative approach with a clear education aspect in order to make the participants aware of the dangers and risks of match fixing."
Sportradar's Marcello Presilla added: "Genoa CFC must be highly commended for recognising the severity of the dangers of match fixing and tackling the issue proactively.
"[We're] delighted Genoa chose to utilise our expertise in this field and we thank them and iziplay for offering us the opportunity to initiate this project."