SoftSwiss has announced that its Game Aggregator solution has reached a thrilling milestone of €150m GGR.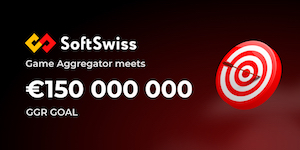 This is yet another exciting milestone for the SoftSwiss Game Aggregator after it surpassed an incredible €4bn total bets target last week. The solution is rapidly expanding to new markets and territories, such as LatAm and Asia, providing its one-stop-shop services to more and more new clients.
The Game Aggregator keeps on gaining momentum, as it marks only four months since SoftSwiss reached the milestone of €100m GGR back in 2020. Taking all this into account, the SoftSwiss Game Aggregator continues proving itself as a leading solution on the market.
Tatyana Kaminskaya, Game Aggregator team lead at SoftSwiss, commented: "Here comes another fantastic achievement for our team and we cannot be happier. Hard work does truly pay off. Reaching the target of €150m GGR after very recently marking the €4bn total bets goal is beyond amazing and is an important milestone in the Game Aggregator growth roadmap.
"Our goal is to further strengthen the position of the Aggregator on the market by continuously increasing its capacity, expanding the game provider network and continuing to deliver a superb level of service to our clients".