Fifty betting executives came to Sports Bar and Grill in Marylebone, London, for SBC's inaugural Snooker Betting Forum.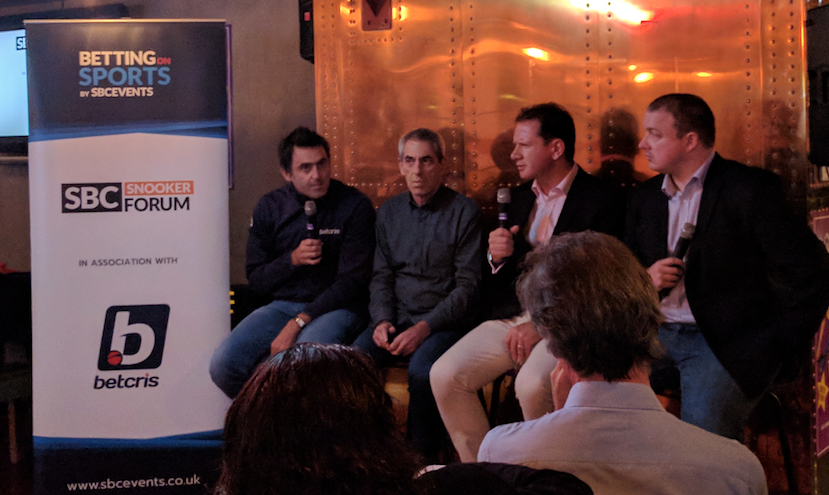 A panel talked about the relationship between snooker and betting with five-times world champion Ronnie O'Sullivan, pictured left.
Hilly Ehrlich, CEO of BetCris, said: "We were looking for a passionate and well-known ambassador and Ronnie fitted the bill perfectly". O'Sullivan said: "Snooker is interesting to punters around the world. A lot of people love the game and want to bet on something they love whether they play or not".
Keith O'Loughlin, executive vice president of Sports at NYX/Openbet, added: "The timing of snooker is critical and yields a great content window. Combined with the amount of streaming and 50 markets betting on every single outcome makes snooker very appealing to consumers."
The panel talked about match fixing. O'Sullivan noted that its hard to make a living in the lower echelons of snooker so "players are in a tricky sitation to make a living," but said "the UK has done a great job of cleaning things up".
A good-humoured session ended with O'Loughlin joking: "Ronnie is the only player that breaks our trading algorithms."
Rasmus Sojmark, founder of SBC, commented: "These events are part of our strategy to engage the sports betting community with all sports. Next week sees our Betting on Sports at Olympia in London. We have 1,200-plus senior execs and almost 200 speakers across 44 sessions."