Scientific Games has made a financial contribution to Georgia First Robotics, the Georgia chapter of the global non-profit First Robotics.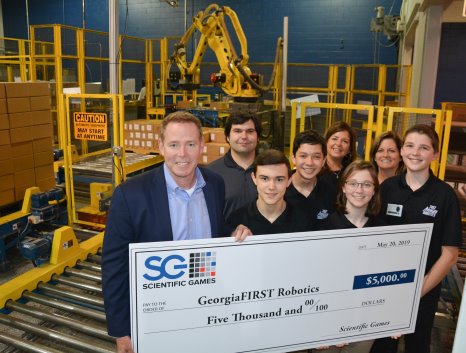 Serving more than 520,000 students around the world by encouraging education and careers in science, technology, engineering and math (STEM)-related fields, students compete on teams in robotics exhibitions throughout the state.
Connie Hayes, executive director of Georgia First Robotics, said: "More than robots, Georgia First Robotics is sports for the mind.
"Our programmes help students gain the confidence to explore innovation while they learn valuable STEM, teamwork and problem-solving skills.
"On behalf of all of our students, instructors, mentors and parent volunteers, we thank Scientific Games for this generous donation."
Scientific Games' donation will help fund Georgia First programmes for students in grades K-12 from Forsyth County Schools, including Alliance Academy for Innovation, Forsyth Central High School, North Forsyth High School, South Forsyth High School, Sharon Elementary and West Forsyth High School.
Pat McHugh, group chief executive of lottery at Scientific Games, said: "With our global lottery headquarters and technology center located just north of Atlanta, Scientific Games is committed to enhancing STEM education and experiences for our local students.
"We are honored to support an organization like Georgia First Robotics that is inspiring and shaping future science and technology leaders and innovators right here in our own community."