Posting its financial results for the first quarter of the year, gaming content giant NetEnt reported a 15.2 per cent rise in revenues to SEK398m (€41.4m) and a 6.3 per cent jump in operating profit to SEK136m (€14.1m).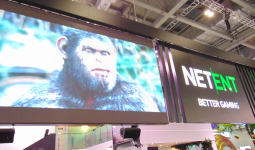 Profit after tax was SEK124m (€12.9m) in the period, an increase of 1.8 per cent year on year, while operating margin stood at 34.2 per cent, down from 37.1 per cent in Q1, 2016.
Fifteen new customer agreements were signed in the three-month period, a new high, and games were launched with Codere on the regulated market in Mexico.
In Q1, NetEnt also announced that it is to develop its first virtual reailty game and unveiled two new branded titles, Planet of the Apes and Emojis.
Per Eriksson, president and CEO or NetEnt, said: "We continued to deliver on our growth strategy in the first quarter and revenues increased in line with our earlier comments about the quarter.
"For the first time, NetEnt's games were launched on the regulated market in Mexico and the Company announced that the first game for VR will be developed in 2017.
"For the rest of 2017, we see conditions for continued solid growth supported by new games, increasing market shares in the UK, mobile growth, many new customers to be launched and our ongoing expansion in North America."