Medialive, the live casino software provider, is showcasing its live roulette using virtual reality during ENADA exhibition (March 15-17) in Rimini, Italy.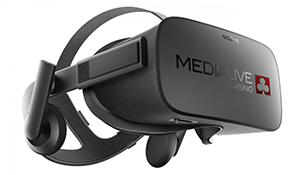 The product allows a customer to experience a 360-degree gaming world using a VR visor. Players face the roulette table and can move within the Medialive studios, increasing the realism of the game.
Angelo De Gobbi, head of sales and marketing for Medialivecasino, said: "Our aim is to find innovative solutions to conquer a new target of players and thanks to VR we can finally attract millennials who, until now, were not very interested in live games. This solution also allows you to retain customers by offering them a VIP gift box, already configured to be able to enjoy the new gaming experience.
"In the case of live games, rather than virtual reality, it would be correct to speak of augmented reality, in fact there is nothing virtual throughout. The game experience is based on real elements."