Specialist software developer and supplier to the global gaming industry, Kiron Interactive, has released its instant-win football game, iGOAL.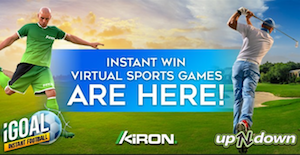 Kiron has gained global recognition for producing refined games which mimic a variety of the world's most popular sports and is once again setting new industry standards with the release of its second instant-win game following the successful launch of golf title Up 'N Down.
iGOAL delivers an exciting new instant football betting experience. Created with cutting-edge 3-D animation, market-leading betting algorithms and with online play in mind, matches are available on-demand 24/7 and offer players the chance to bet on single or multiple games, with winnings instantly viewable.
The user interface is intuitive and aligns with the variety of bet market selections, including quick bet options, all designed to fit the immersive nature of the gameplay, which includes exhilarating live commentary as players watch the action unfold.
Operators will find the game easy to offer, with a quick and convenient set-up that works across all major browsers, also supporting a wide selection of languages and currencies.