Intralot will be partnering with Simplebet, an innovator in global sports betting technology, to launch new in-play, real money betting opportunities for NFL, MLB and NBA.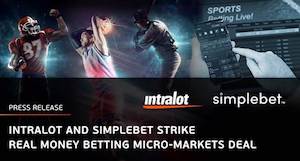 Simplebet, a B2B product development company using machine learning and automation to enable every moment of every sporting event to become a betting opportunity, known as micro-markets, will offer millions of new and engaging betting opportunities across Intralot Orion, the next-generation sports betting platform.
Simplebet's proprietary micro-markets pricing engine powers in real-time both the market mechanics of a betting market (i.e. creation, suspension, repricing, and resulting) and odds for each selection.
Intralot and Simplebet will begin rolling out the products this NFL season and potentialy later this MLB postseason, with plans to launch for the next NBA season.
"The continuous enrichment of player experience and the enablement of state organisations in contributing to good causes are key elements of our purpose as a company. We do that organically and through partnerships with innovative companies," said Intralot Group CEO Dr Chris Dimitriadis. "We are looking forward to working with Simplebet and diversifying our portfolio further."