With more choice available to online casino customers than ever before, we sat down with Boldplay CEO Valli Fragoso to get her thoughts on the latest emerging trends in the market and how the studio's signature range of products and features have helped it to stand out from the competition.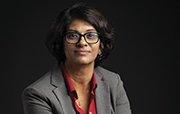 What do you see as the major trends in online slots developing in 2023 and beyond?
We're starting to see a generational shift in slot players away from Gen X and over to Millennials/Gen Y, so the main thing is to create games that appeal to this kind of audience.
Read the full article in the latest issue of iNTERGAMINGi
To receive every print and digital issue of iNTERGAMINGi, subscribe here