GiG has announced further investment in North America with the creation of a US hub led by co-founder Ben Clemes, who will assume the position of president of GiG North America.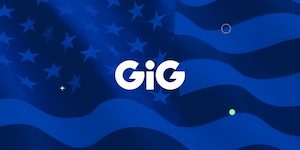 GiG has been operational in the US since 2018, initially powering the Hard Rock brand in New Jersey, before furthering that investment over the last four years, expanding all North American operations to accommodate each of its business units.
In recent months alone, GiG has announced the launch of PlayStar in New Jersey, the issuance of authorisation in Pennsylvania and a deal with Crab Sports in Maryland, ahead of pending regulation in the state.
The foundations of operations in the US marks a continued strengthening of the strategic commitment GiG has placed on business in North America.
Over half the states in the US have legalised sports betting over the last four years, with approximately 20 per cent of those states also legalising igaming (casino), a ratio that is only expected to get stronger over the years to come.
GiG Media alone has been applying for authorisation as fast as states regulate and is now licensed and operating in over 19 states, which will look to be strengthened with a further local approach to operations and build on the solid foundations built over the last two years.
Richard Brown, CEO of GiG, said: "We have strong aspirations for North America as part of our global strategy and with the integration of Sportnco and completion of our next generation of technology within the platform, the timing is perfect to further establish GiG operationally into the continent to capitalise on each and every opportunity.
"With Ben's long history at GiG, product expertise and local knowledge there is no one better to lead the US team."
Clemes added: "The first decision that I made with GiG was the move from Malta to Marbella to set up a hub to support our growing B2B businesses and I am very inspired to make this next move to the US to establish GiG further into the North American office.
The timing is perfect, with the full integration of Sportnco into our next generation of platform technology developed specifically for the North American market.
"In addition to supporting GiG Media growth with their strategy across the Atlantic, it has been 15 years since I set foot in Europe and I am excited to be moving back to where my gaming career started."
GiG expects the new hub to be operational during Q2, 2023.