Southampton Football Club has extended its partnership with the Coingaming Group for a further three years in a deal that will see its brand, Sportsbet.io, continue as the English Premier League club's front-of-shirt sponsor.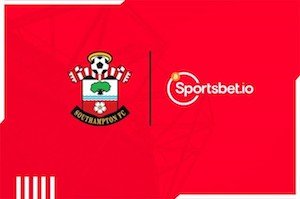 The deal is the biggest sponsorship agreement in the club's history and also includes the option for the club to be paid certain performance-based bonuses in bitcoin at the end of each season, allowing the club the opportunity to take advantage of the new, high-growth currency if it feels it will bring significant future benefits.
This partnership will allow Sportsbet.io to continue to build on the strong relationship it has built with the club and its supporters in the last year.
Since becoming Main Club Partner in August 2020, when it stepped in at short notice to take over the front-of-shirt sponsorship, it has worked tirelessly with the club to create a positive impact in the local community and highlight the importance of safe betting.
This work has included the Listen To The Saint In You campaign that was launched during Safer Gambling Week, linking up with a number of Saints players to encourage fans to consider the risks before placing a bet.