Digitain's Peter Nolan explains to iNTERGAMINGi the company's strategy to prioritise the bettor's journey.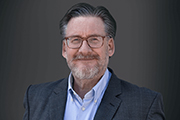 INTERGAMINGi: What are the major challenges when building a sports betting platform?
PN: I think it's easier to discuss what I believe you have to get right in order to develop (and by the way, continue to develop) a successful sports betting platform. I won't go into the technology stack required, someone more informed is best covering that, although aspects such as speed, security and stability are obviously paramount.
Read the full article in the latest issue of iNTERGAMINGi
To receive every print and digital issue of iNTERGAMINGi, subscribe here