For once the i-gaming buzz at the Global Gaming Expo, taking place in Las Vegas this week, was not about which state would open up to internet gambling next.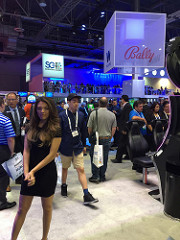 This time it is sports that is on everyone's mind. Every panel seemed to end with a question on daily fantasy sports. The rapid growth of DFS (or one-week fantasy as the operators like to advertise themselves as) has excited many, while others pour scorn on the gigantic ad-spend these two unicorns (DraftKings and FanDuel; both $1bn-plus valued companies) - calling their cost of acquisition unsustainable. They spent $100m in September alone.
Whatever your thoughts on DFS, the must-see panel featured Jason Robins CEO of DraftKings. I presume he was at the conference to position a DraftKings B2B play with the land-based casinos as DraftKings are building out sports lounges across the country. He noted the lack of consumer overlap between casino and DFS "created an amazing opportunity".
However he was in a tricky position trying to justify the unregulated nature of his business at the same time. He commented that the difference between DFS and sports betting "is skill." Robins compared it more to chess or stock investing, commenting that "only 15 per cent of his audience were sports bettors." The conference audience was not convinced but the curated nature of the panel meant there was no Q&A.
Earlier in the day, however, Joe Asher, CEO at William Hill US, had relentlessly teased Seth Young, CEO of Star Fantasy Leagues. "Just because DFS has a skill element does not make it gambling," he commented as he drew parallels to skill elements in poker and sports betting. "I'm all for it but let's call it what it is – gambling."
Many at the show speculated that the attention DFS is getting could be the route to sports betting being legalised. Comparing the industry to the position poker has been in Daniel Wallach, attorney at Becker and Poliakoff, thought a "Black Friday for DFS" was unlikely, as "fantasy was too pervasive." He thought a taxed and regulated industry was far more likely outcome.
The other buzz of the show was skill gaming. With the door open to skill gaming in Nevada, many hoped that this new category would be the key to engaging the "millennial" audience (individuals born between the early 1980s and early 2000s, although definitions vary). Gamblit Gaming showed off its new cabinet-based approach and many liked the innovative route they were pushing.
Bryan Kelly, senior vice president of technology for Scientific Games, was realistic on the speed to market, saying skill games will be on the casino floor "by the end of 2016". Others are trying the i-gaming route into skill games.
Jarrod Epps, CEO of real-money skill platform Cashplay, noted that "Skill gaming on mobile makes real-money competition available to millennials at all times, allowing games and gaming companies to engage with this audience in ways previously unavailable to them."
With Pokerstars finally gaining their New Jersey licence this i-gaming state also took some G2E attention. The panels were bullish on the opportunity the state was bringing, noting its 20 per cent year-on-year i-gaming growth and it was only the initial unrealistic forecasts made by politicians that had caused negative sentiment to the i-gaming market. Melissa Blau of iGaming Capital noted that the industry had raised $34m in taxes for New Jersey so far.
The huge size of the e-sports market was another eye opener at the show considering its largely unregulated position. Chris Grove, of Legal Sports Report, estimated that every year e-sports betting turns over $300m, e-sports fantasy yields $20m of fees, but e-sports in-game wagering is a massive $3.8bn. Marco Blume of Pinnacle Sports said that e-sports betting was Pinnacle's "seventh biggest sport."
So as we enter the final day of G2E maybe it has not been about which state would be regulated next, but maybe which industry.