Game developer Evoplay has revealed how it ended 2021 in record-breaking fashion, marking the most successful year yet for the studio since its inception in 2017.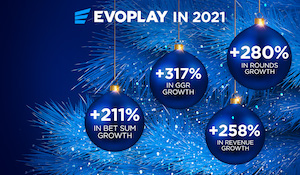 In a 12-month period that saw the company hit multiple milestones, Evoplay reported growth across several segments, launched ground-breaking products and was acknowledged by the industry at different award events.
Compared to the previous year, Evoplay showcased an impressive 212 per cent growth in B2B deals, which included partnerships with notable brands such as, EveryMatrix, MeridianBet and Slots.io.
Similarly, there was a 258 per cent growth in revenue, reflecting the provider's ability to offer engrossing games, as Evoplay remains committed to pushing boundaries to deliver innovative gameplay.
A 317 per cent growth in GGR, 211 per cent in total bets and a 280 per cent surge in player rounds has highlighted the studio's ability to provide its partners with a truly next-generation gaming experience, which was bolstered by an ambitious and successful rebrand, as well as its Star Guardians launch.
The launch of the bold marketing campaign behind Star Guardians generated an unrivalled sense of excitement, as the industry's first third-person shooter reached over 100 million players in 2021.