A new Tennis Betting Simulator has been added to the Digitain platform and its network partners.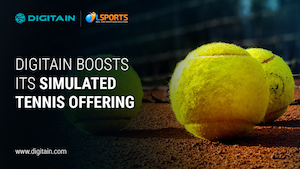 The sportsbook and casino platform provider, working mainly on the European market, has plans to expand into North America and Asia.
Now the company has enhanced its platform content with the new LSports partnership to take on board the simulator that uses real data from over a million historical tennis matches to the database.
The matches are random and are identically replayed and produced with real-time odds. At the end of each match the original information is revealed to customers to enable verification of the results. Players can bet on pre-match in-play markets such as game winner, point winner, match winner and more. There are over 300 simulated tennis matches available per day.