CreedRoomz aims to overcome challenges to create 'the best experience ever' for players and customers.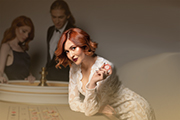 CREEDROOMZ is BetConstruct's live casino that has a history of more than a dozen years of operation.
"From a local online casino to the status of global software developer and independent brand, CreedRoomz never stopped developing, conquering new heights, overcoming the challenges of this ever-changing era of innovation and constantly providing our customers and partners with the best experience ever," says the company.
Read the full article in the latest issue of iNTERGAMINGi
To receive every print and digital issue of iNTERGAMINGi, subscribe here