BetConstruct last week returned to the largest event in the igaming calendar, ICE London, exhibiting its industry-leading solutions with flying colours.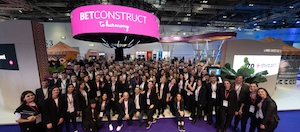 With an outstanding stand, BetConstruct presented its sophisticated portfolio of complete igaming solutions. Reflecting the philosophy of harmony, excellence and innovation, BetConstruct's showcase proved to be one of the most eye-catching at the show.
Challenging the existing patterns, BetConstruct decided to strengthen its footprint in the African region and develop another diverse market for its partners.
Infused with the ongoing What's Yours is Yours campaign in the African market, BetConstruct dedicated its stand design to the spirit of the region.
Recent years have been extremely productive in terms of growing the live casino into a separate brand called CreedRoomz. This was the first time the brand showcased at ICE London and raised the bar with its newest robot dealer, Roba.
Being the first to bring robotisation to the industry, CreedRoomz provided the visitors with a unique opportunity to witness the latest innovation.
Another proud exhibit at BetConstruct's stand was the AI assistant Hoory. Apart from its primary purpose, Hoory was tasked to take drink orders from visitors to the stand and show how effective the technology is in delivering in a hassle-free and timely manner.