bet365 is pleased to announce the OneOnOne YouTube channel which launched on January 20 in collaboration with UFC and Laura Sanko, the channel's host and star.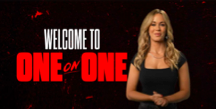 The channel will see Sanko deliver exclusive UFC content multiple times a week with everything from fighter interviews and big-fight breakdowns to bringing the fans unrivalled behind-the-scenes video footage.
Sanko, a former MMA fighter herself, is one of the leading UFC reporters on ESPN and has previously played a huge part in the UFC fight night broadcast, conducting backstage interviews and analysis.
She said: "I'm so excited to announce the launch of my new UFC dedicated YouTube channel, OneOnOne, in partnership with bet365. With everything from exclusive fighter interviews to all-access behind the scenes passes, I cannot wait to discuss all things UFC."
A bet365 spokesperson said: "This partnership with Laura Sanko and the launch of the OneOnOne YouTube channel is hugely exciting and we cannot wait to deliver this bespoke content to our customers and followers."